30 Minutes of Pac. Enjoy.
Legends Never Die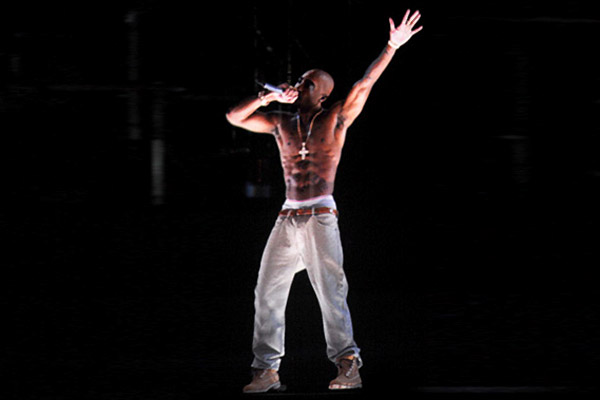 I made it known that I would only want to go to Coachella this year because Snoop Dogg and Dre. Dre are the closest I'd ever come to seeing my generation's Tupac and Biggie.
But this? Seeing the actual …err, a CGI-ed Tupac on stage? That just blows my mind.
Tupac appeared on staged and performed "Hail Mary" and "2 of Amerikaz Most Wanted" with Snoop.
Anyone who's followed the site knows I'm a huge Tupac fan. There's no surprise I would make a post commemorating the legendary rapper's 40th birthday. To be honest, I didn't really want to make a post, if you guys remember, when I listen to Pac it means it's my "alone time," my "Fuck off. Leave me in my own world" type of mood. Well, I just wanted to say one quick thing: fuck Dexter Isaac!
I'd rather shy away from talking about Tupac Shakur's murderer, so happy birthday, Pac.
Fun fact: After learning that Tupac
Mother's Day is here and it's time to reflect back on all the wonderful things our moms have done for us. There's almost nothing that my mom hasn't done for me and I'm grateful for that. My family isn't the close-family type; we're more relaxed and go about ourselves most of the time, but we usually get together a few times out of the year. Mother's Day is that day we all just kind of hang around in the same room together and eat all some of the food my brothers and I bought my mom. It's funny because my
I've been having a bad week. Just one of those weeks,  ya know?  And, it's not often I voice my displeasure with my situations, but today is different. I'm tired, shit just happened, and I want this week to be over. In case you didn't know, I listen to Tupac when I'm feeling the way I am right now. I'm not going to go on and discuss why I love Tupac or why I only listen to him when I'm like this.
Only 84 days remaining until Coachella and today we have music from Two Door Cinema Club. Two Door Cinema Club consists of four Irish mates (ha, mates) with an electro rock/pop tune. TDCC is easily one of my most favorite bands to listen to. I only have five bands/artists that have their own playlist on my iPod: Tupac, XV, Jack Johnson, Wale, and Two Door Cinema Club; that's it.
Two Door Cinema Club released their debut album, Tourist History, in April of last year and have been touring the globe non-stop. I was fortunate enough to attend one of their US shows in Los Angeles and it was one of the best nights ever. Along with their debut album, they recorded an EP and altogether, they have only 16 songs. The band is also featured on a few Kitsune Maison (their record label) mixes. I first heard of the band through the Kitsune Maison 7 Minimix. I would post every TDCC song but I'll leave you guys with my four favorite tracks: "What You Know," "I Can Talk," and click for the next page to check out my two non-stop repeat songs; "Undercover Martyn," and "This Is The Life."
Two Door Cinema Club – I Can Talk
[audio:http://dearsonginmyhead.com/wp-content/uploads/2011/01/two-door-cinema-club-i-can-talk.mp3]
There's nothing more random than a Tupac post at 11 p.m. on a cold Wednesday night in December. But this isn't that random. The friends that know my taste in music know that Tupac comes first. When i'm mad, I listen to Tupac; when I go play ball, I listen to Tupac. Whatever the case may be, it's Tupac above everything else.
Today is one of those days where I play my Makaveli The Don playlist that consists of over 400 Tupac songs, and just think about all the shit i've been through that day. This is what lead me to